Immunosuppressive role of HMGB1 in TME

HMGB1 is a multifunctional protein with various roles in different cellular compartments. It exhibits a dual role in cancer cells; the intracellular HMGB1 acts as an anti-tumor protein stabilizing the genome, whereas the chronic released HMGB1 behaves as a pro-tumor protein with immunosuppressive functions.
In tumor microenvironment (TME), tumor cell-secreted HMGB1 inhibits the activities of T cells by inhibiting the maturation of dendritic cells (DCs) and promoting the activities of myeloid-derived suppressor cells (MDSCs) and Treg. HMGB1 also inhibits anti-tumor activity by binding to the immunosuppressive receptor TIM‐3. Moreover, HMGB1 interacts with RAGE and induces tumor cell migration, invasion and metastasis.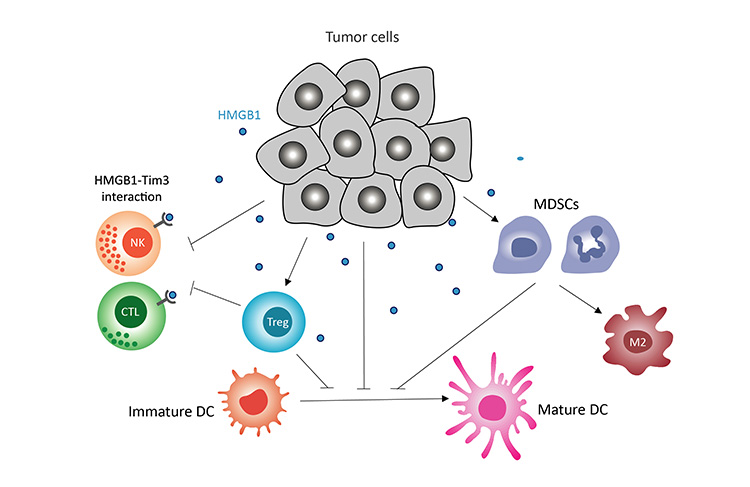 HMGB1 is a potential prognosis marker and a target for cancer therapy. arigo offers quality antibodies and ELISA kits to facilitate the research of the detailed mechanism underlying the immune suppression by HMGB1.

HMGB1 ELISA kits and antibodies
Reactivity: Hu
Sensitivity: 0.3 ng/ml
Sample: Plasma, cell culture sup.
Reactivity: Ms, Rat
Sensitivity:

0.3 ng/ml


Sample: Plasma, cell culture sup., lysates
Reactivity: Hu, Ms, Rat
Sensitivity: 0.15 ng/ml
Sample: Serum

| | | | | |
| --- | --- | --- | --- | --- |
| Cat. No. | Product | Clonality | Reactivity | Application |
| ARG65463 | CD11b antibody [ICRF44] | Mouse mAb | Hu, NHuPrm | FACS, FuncSt, ICC/IF, IHC-Fr, IP |
| ARG54260 | CD11b antibody [ICRF44] (PE) | Mouse mAb | Hu, NHuPrm | FACS, ICC/IF, IHC-Fr |
| ARG22000 | CD11b antibody [M1/70] | Rat mAb | Hu, Ms, Bb, Mk | BL, FACS, ICC/IF, IHC-Fr, IHC-P, IP |
| ARG65478 | CD11b antibody [M1/70] (APC) | Rat mAb | Hu, Ms, Bb, Mk | FACS |
| ARG20843 | CD11b antibody [3A33] (PE-Cy7) | Rat mAb | Ms | FACS, ICC/IF |
| ARG65560 | CD33 antibody [WM53] | Mouse mAb | Hu, NHuPrm | FACS, FuncSt, ICC/IF, IHC-Fr, IP, WB |
| ARG22104 | Ly6G/Ly6C antibody [RB6-8C5] | Rat mAb | Ms | Depletion, FACS, IHC-Fr, IHC-P, IP |
| | | | | |
| --- | --- | --- | --- | --- |
| Cat. No. | Product | Clonality | Reactivity | Application |
| ARG21322 | CD11c antibody [3.9] | Mouse mAb | Hu, Mk | BL, FACS, IHC-Fr, IP |
| ARG23522 | CD11c antibody [N418] | Hamster mAb | Ms | FACS, ICC/IF, IHC-Fr, IP |
| ARG23079 | Thrombomodulin antibody [QBEND/40] | Mouse mAb | Hu, Rb | FACS, IHC-Fr, IHC-P |
| | | | | |
| --- | --- | --- | --- | --- |
| Cat. No. | Product | Clonality | Reactivity | Application |
| ARG55553 | F4/80 antibody [BM8] | Rat mAb | Hu, Ms | FACS, IHC-Fr, WB |
| ARG53010 | F4/80 antibody [SP115] | Rabbit mAb | Hu, Ms | IHC-Fr, IHC-P, WB |
| ARG22838 | CD163 antibody [EDHu-1] | Mouse mAb | Hu, Bo, Gpig, Pig, Mk, Sh | ELISA, FACS, ICC/IF, IHC-Fr, IHC-P, WB |
| ARG56138 | CD163 antibody | Rabbit pAb | Hu, Ms, Rat | FACS, IHC-P, WB |
| ARG55554 | CD206 antibody [15-2] | Mouse mAb | Hu, Ms | FACS, FuncSt, ICC/IF, IHC-Fr, IP, WB |
| ARG22456 | CD206 antibody [MR5D3] | Rat mAb | Ms | FACS, ICC/IF, IHC-Fr, IP |
| ARG22372 | CD206 antibody | Rabbit pAb | Hu, Ms, Rat, Pig | ICC/IF, IHC-P, WB |
| | | | | |
| --- | --- | --- | --- | --- |
| Cat. No. | Product | Clonality | Reactivity | Application |
| ARG21295 | CD4 antibody [RFT4] | Mouse mAb | Hu | FACS, ICC/IF, IHC-Fr, WB |
| ARG21979 | CD4 antibody [GK1.5] | Rat mAb | Ms | BL, Depletion, FACS, ICC/IF, IHC-Fr, IP |
| ARG65448 | CD4 antibody [GK1.5] (PE) | Rat mAb | Ms | FACS, ICC/IF, IHC-Fr |
| ARG65860 | CD4 antibody [SQab1714] | Rabbit mAb | Hu | FACS, IHC-P, IP, WB |
| ARG54202 | FoxP3 antibody [3G3] | Mouse mAb | Hu, Ms | FACS, WB |
| ARG53050 | FoxP3 antibody [SP97] | Rabbit mAb | Hu | IHC-P |