Products
ARG65660
anti-Dengue virus NS1 antibody [SQab1501]

概述
产品描述

Mouse Monoclonal antibody [SQab1501] recognizes Dengue virus NS1

反应物种

DEN

应用

ELISA

,

FACS

,

ICC/IF

,

WB

特异性
This antibody recognizes monomer, dimer, hexamer of DENV1/2/3/4 NS1 protein.
宿主
Mouse
克隆
Monoclonal
克隆号
SQab1501
同位型
IgG2a
靶点名称
Dengue virus NS1
抗原物种
Virus
抗原
Recombinant hexamer Dengue virus NS1 protein from drosophila cell
偶联标记
Un-conjugated
全名
Dengue virus nonstructural protein 1
別名
Dengue virus NS1 antibody; Dengue virus nonstructural glycoprotein NS1 antibody
应用说明
应用建议

| 应用 | 推荐稀释比 |
| --- | --- |
| ELISA | 1:1000 - 1:15000 |
| FACS | 1:400 - 1:1000 |
| ICC/IF | 1:200 - 1:1000 |
| WB | 1:3000 - 1:10000 |

应用说明
* The dilutions indicate recommended starting dilutions and the optimal dilutions or concentrations should be determined by the scientist.
属性
| | |
| --- | --- |
| 形式 | Liquid |
| 缓冲液 | PBS (pH 7.4), 0.01% Thimerosal, 1% BSA and 10% Glycerol. |
| 抗菌剂 | 0.01% Thimerosal |
| 稳定剂 | 1% BSA and 10% Glycerol |
| 浓度 | 1 mg/ml |
| 存放说明 | For continuous use, store undiluted antibody at 2-8°C for up to a week. For long-term storage, aliquot and store at -20°C. Storage in frost free freezers is not recommended. Avoid repeated freeze/thaw cycles. Suggest spin the vial prior to opening. The antibody solution should be gently mixed before use. |
| 注意事项 | For laboratory research only, not for drug, diagnostic or other use. |
生物信息
基因名称
DENV_gp1
基因全名
Dengue virus nonstructural protein 1
背景介绍
Dengue virus NS1 protein is a nonstructural protein which could be secreted and have been developed as diagnostic biomarker for early detection. There are several forms of NS1 including monomer, dimer, and hexamer during infection. Dimeric NS1 can be anchored to cell membranes with glycosyl-phosphatidylinositol (GPI). Hexameric NS1 can be secreted and detected in patients' blood samples (up to 50 μg/mL) or infected cell supernatants (various from ng/mL to μg/mL depend on serotypes and strains). Studies have shown that NS1 could interfere complement activity and prothrombin activation. In addition, NS1 could elicit antibodies which cross-react with host antigens including coagulation factors and molecules expressed in endothelial cells and platelets through molecular mimic.
生物功能
Dengue virus (DENV) non-structural protein 1 (NS1) is involved in virus replication and regulation of the innate immune response. Soluble and membrane-associated NS1 may activate human complement and induce host vascular leakage. This effect might explain the clinical manifestations of dengue hemorrhagic fever and dengue shock syndrome (By similarity). [provide by uniprot]
产品亮点
Related products:
Dengue Virus antibodies; Dengue Virus ELISA Kits; Dengue Virus Duos / Panels; Anti-Mouse IgG secondary antibodies;
Related news:
Best NS1 antibodies in the market
Fighting fire with fire: Genetically-engineered mosquitoes as an alternative to fight diseases
Tools for studying Dengue Virus

研究领域
Microbiology and Infectious Disease antibody
检测图片 (3) Click the Picture to Zoom In
ARG65660 anti-Dengue virus NS1 antibody [SQab1501] ICC/IF image

Immunofluorescence: ARG65660 anti-Dengue virus NS1 antibody [SQab1501] (1:400) were used for detecting DENV NS1.

ARG65660 anti-Dengue virus NS1 antibody [SQab1501] FACS image

Flow Cytometry: Huh7 (closed histogram) or Dengue virus type 2 infected Huh7 cells (M.O.I.=1) (open histogram) stained with ARG65660 anti-Dengue virus NS1 antibody [SQab1501] at 1:500 dilution for 1h at RT, followed by incubation with Alexa Fluor® 633 labelled secondary antibody.
客户反馈

Excellent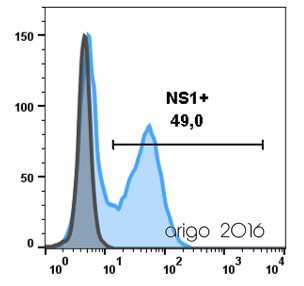 anti-Dengue virus NS1 antibody [SQab1501]
Application:FACS
Sample:Dengue virus type 2 (strain 16681) infected monocyte cells (M.O.I.=10)
Cell Number/Concentration:1x10E6
Primary Antibody Dilution Factor:1:1000
Primary Antibody Incubation Time:1hr
Primary Antibody Incubation Temperature:4 ºC
Conjugation of Secondary Antibody:AlexaFluor488