Products
ARG54937
anti-SOD2 antibody


参考文献
5
概述
产品描述

Rabbit Polyclonal antibody recognizes SOD2

反应物种

Hu

,

Ms

,

Rat

应用

ICC/IF

,

IHC-Fr

,

IHC-P

,

WB

宿主
Rabbit
克隆
Polyclonal
同位型
IgG
靶点名称
SOD2
抗原物种
Human
抗原
Recombinant protein of Human SOD2 (NP_000627.2)
偶联标记
Un-conjugated
別名
MNSOD; Superoxide dismutase [Mn], mitochondrial; IPOB; EC 1.15.1.1; MVCD6
应用说明
应用建议

| 应用 | 推荐稀释比 |
| --- | --- |
| ICC/IF | 1:10 - 1:100 |
| IHC-Fr | Assay-dependent |
| IHC-P | 1:50 - 1:200 |
| WB | 1:500 - 1:2000 |

应用说明
* The dilutions indicate recommended starting dilutions and the optimal dilutions or concentrations should be determined by the scientist.
属性
| | |
| --- | --- |
| 形式 | Liquid |
| 纯化 | Affinity purification with immunogen. |
| 缓冲液 | PBS (pH 7.3), 0.02% Sodium azide and 50% Glycerol |
| 抗菌剂 | 0.02% Sodium azide |
| 稳定剂 | 50% Glycerol |
| 存放说明 | For continuous use, store undiluted antibody at 2-8°C for up to a week. For long-term storage, aliquot and store at -20°C. Storage in frost free freezers is not recommended. Avoid repeated freeze/thaw cycles. Suggest spin the vial prior to opening. The antibody solution should be gently mixed before use. |
| 注意事项 | For laboratory research only, not for drug, diagnostic or other use. |
生物信息
数据库连接
基因名称
SOD2
全名
superoxide dismutase 2, mitochondrial
背景介绍
This gene is a member of the iron/manganese superoxide dismutase family. It encodes a mitochondrial protein that forms a homotetramer and binds one manganese ion per subunit. This protein binds to the superoxide byproducts of oxidative phosphorylation and converts them to hydrogen peroxide and diatomic oxygen. Mutations in this gene have been associated with idiopathic cardiomyopathy (IDC), premature aging, sporadic motor neuron disease, and cancer. Alternate transcriptional splice variants, encoding different isoforms, have been characterized. [provided by RefSeq, Jul 2008]
生物功能
Destroys superoxide anion radicals which are normally produced within the cells and which are toxic to biological systems. [UniProt]
产品亮点
Related Antibody Duos and Panels:
ARG30274 SOD1 and SOD2 Antibody Duo
Related products:
SOD2 antibodies; SOD2 Duos / Panels; Anti-Rabbit IgG secondary antibodies;

研究领域
Cancer antibody; Cell Biology and Cellular Response antibody; Cell Death antibody; Metabolism antibody; Neuroscience antibody; Signaling Transduction antibody
预测分子量
25 kDa
翻译后修饰
Nitrated under oxidative stress. Nitration coupled with oxidation inhibits the catalytic activity.
Acetylation at Lys-122 decreases enzymatic activity. Deacetylated by SIRT3 upon exposure to ionizing radiations or after long fasting (By similarity).
检测图片 (4) Click the Picture to Zoom In
客户反馈

Excellent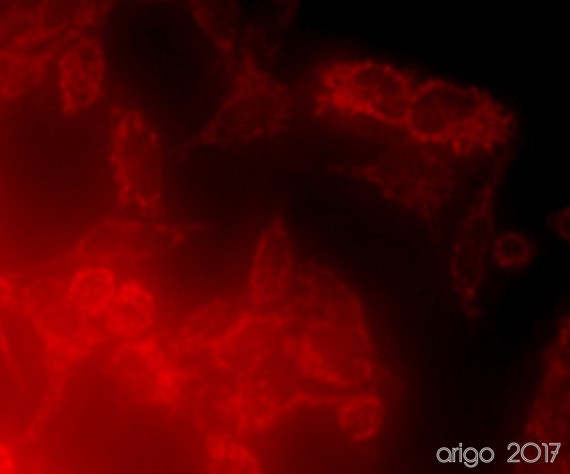 anti-SOD2 antibody
Application:IF/ICC
Sample:HeLa
Fixation Buffer:100% Methanol
Fixation Time:10 min
Fixation Temperature:RT ºC
Permeabilization Buffer:0.1% Triton X-100
Primary Antibody Dilution Factor:1:10
Primary Antibody Incubation Time:overnight
Primary Antibody Incubation Temperature:4 ºC
Conjugation of Secondary Antibody:TRITC